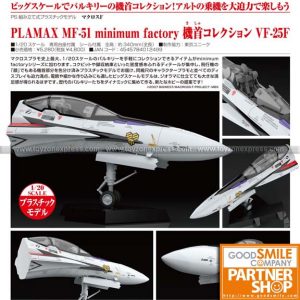 Max Factory – Plamax MF-51: Minimum Factory Fighter Nose Collection VF-25F
Our Price: ₱2,745Regular Price: ₱3,050
Our Price: ₱2,745
Presenting a collection of the nose sections of Valkyrie Fighters in big size! Enjoy the impressive appearance of Alto's own fighter!
Released Date: 2021-11
Down Payment: ₱500
Promo Closing: August 20, 2021 or until slots full
Availability: Pre-order
Product Description
Specifications: PS 1/20 scale assemblable plastic model kit with stand included. Stickers included. Approximately 340mm in length.